Aperitivo Hour | Rittenhouse Starts 5/27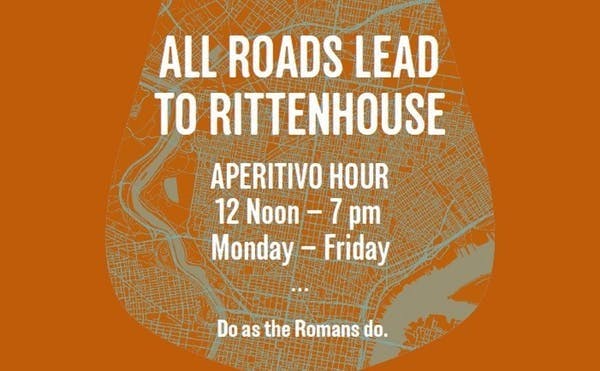 For as long as it's warm enough to dine al fresco, we're bringing a treasured Italian tradition to Philadelphia. Italians are known for their refreshingly relaxed way of life, and one important part of a Roman day is often an aperitivo, or light cocktail, among friends between work and dinner.
Join us every weekday Memorial Day through Labor Day to partake in this lovely ritual.
Recent Aperitivo Hour cocktails have included:
Gran Torino $9
Vermouth di Torino Bianco, Montanardo + Vermouth di Torino Rosso, Cocchi
Italy's only name-controlled vermouth, first made in the 18th century in Turin, gets its due here, both white + red
Rittenhouse Rosa $9
Blood Orange Sparkling Wine + Americano Rosa, Cocchi
Rosy-hued Italian aperitivo wine gets a refreshing twist from blood oranges, a favorite fruit of Rome
Sansom Street Spritz $9
Prosecco Extra Dry, Ca' Furlan + Aperitivo Rosso, Cappelletti
Our own take on the most famous aperitivo cocktail: the way to end a work day, in Rome or in Rittenhouse