Sunday School | Taproom 12/8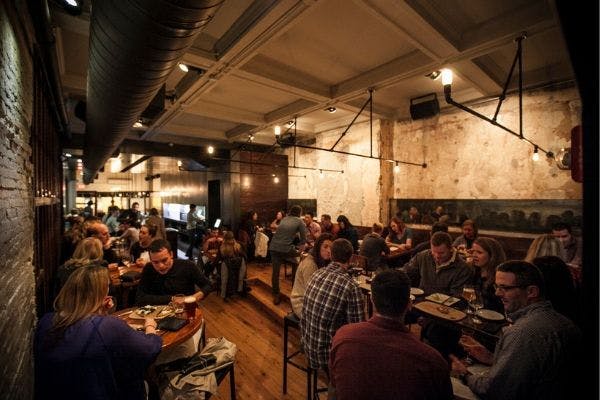 Learn about and enjoy a different beer, cheese, and cocktail every Sunday at incredibly low prices. School was never this delicious. Limit one each per guest at the Sunday School price, and please, no returns: if you try it, you buy it. (We think you'll like it!)
SUNDAY, December 8th, 2019
---
BEER Avec les Bon Voeux de la Brasserie Dupont
Tourpes – Leuze, Belgium · 9.5%
Brasserie Dupont, in the same family since 1920, is simply the iconic brewer of the newly popular Belgian Saison style. A true Saison is complex, with fruity aromas and flavors. They have earthy yeast tones, mild to moderate tartness, lots of spice and medium bitterness. They tend to be semi-dry, with many having just a touch of sweetness. Avec Les Bon Voeux was created in 1970 and originally given as a gift at the beginning of each year to the brasserie's friends—thus the name, which means "with best wishes." Dupont eventually decided to release the beer commercially—in tiny amounts—as a special holiday treat. Not your average Saison, it has a substantially mightier backbone and an overall dry finish. On the nose it has plentiful spice and a pleasant fruity hop aroma; on the palate it showcases dark citrus fruit and an herbal, spicy quality typical of classic Saison. We offer this special brew with our best wishes for this holiday season.
$11 / 11 oz · $6 / 11 oz
---
CHEESE Spring Brook's Reading Raclette
Reading, VT · Cow - R
Raclette is a beloved Alpine cheese traditionally melted over potatoes and served with cornichons and cured meats. This artisan version from Vermont is so good that many cheesemongers recommend it as a snacking cheese. The texture is fudge-y, and the taste calls to mind roasted garlic. Also, Spring Brook is a mission-oriented dairy that supports the Farms for City Kids Foundation – one more reason to enjoy this delicious wonder as we move into the season of holiday giving. Huzzah!.
$6 · $3.5
---
COCKTAIL Taproom Toddy

Nothing will warm you on the coldest of days like a traditional hot toddy. As early as 1786, a hot toddy, known as hot whiskey in Ireland, has been a beverage made of alcohol, hot water, sugar, and spices. It's so soothing that one of the fables behind the creation was that an Irish doctor, Robert Bentley Todd, was the first to utilize the recipe to combat cold and flu symptoms, hence the name! Here at Taproom, we take a toddy and do it the Tria way. Featuring vino-based Brisson Cognac and local Dad's Hat Rye, we have the right amount of sweet and heat to balance with the fresh lemon and ginger juices and all-spice infused honey. Careful, it's served hot…just like it should be!
$12 · $6.5