Sunday School | Taproom 6/16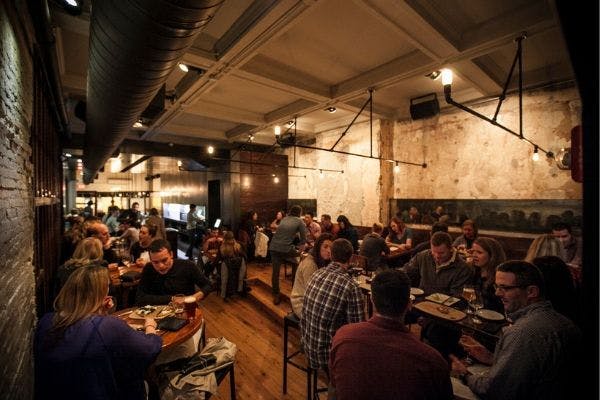 Learn about and enjoy a different beer, cheese, and cocktail every Sunday at incredibly low prices. School was never this delicious. Limit one each per guest at the Sunday School price, and please, no returns: if you try it, you buy it. (We think you'll like it!)
SUNDAY, JUNE 16, 2019
---
BEER ANXO Cidre Blanc
Washington D.C. · 6.9%
Apples, especially when put to their highest and best use (hard cider) deserve more respect. A proliferation of saccharine sweet, bland hard ciders doesn't help. D.C.'s ANXO (an-cho) Cidery, on the other hand, makes ciders using traditional methods, with inspiration from Spain's glorious Basque ciders. Cidre Blanc is ANXO's flagship—light, crisp and refreshing, with bright acidity and a slight prickle of tannin, leading to a clean finish with hints of white grape and green apple. Respect the apple!
$10 / 11oz · $5 / 11oz
---
CHEESE The Farm at Doe Run's Batch 15
Unionville, PA · Sheep - R
Think "Summer in Spain" with this local version of Zamorano, a waxen sheep's milk cheese with notes of brown butter and roasted nuts (it's similar to Manchego). This mixed-milk version from nearby Chester County has been snapping up awards at both national and state-wide cheese competitions, thanks to the talent of young cheesemakers Sam Kennedy and Matt Hettinger. The two are best known for their award-winning Seven Sisters and St. Malachi, but we think this recent creation is especially exciting. It's made from raw milk, and it showcases the high-quality pastured milk from all three of the animals that are raised at Doe Run. The cheesemakers recommend pairing Batch 15 with Basque cider or a glass of Txakoli.
$7.5 · $4
---
COCKTAIL Paper Phoenix

Inspired by the 2008 modern classic cocktail 'Paper Plane' (Sam Ross, Milk & Honey), our Paper Phoenix includes fresh lemon juice, Aperol, Cardamaro Vino Amaro, and local Bluebird Distilling's Phoenixville Whiskey. See what we did there? Featuring Campari's little sister, Aperol, as well a Tria-esque addition of Cardamaro, a vino amaro made in part with artichoke thistle. The star spirit is the Phoenixville Blended Whiskey from out friends at nearby Bluebird Distilling in Phoenixville, PA. This cocktail is a rich, immediately likeable whiskey sour variation that will make your taste buds fly high.
$12 · $6.5