Sunday School | Taproom 10/27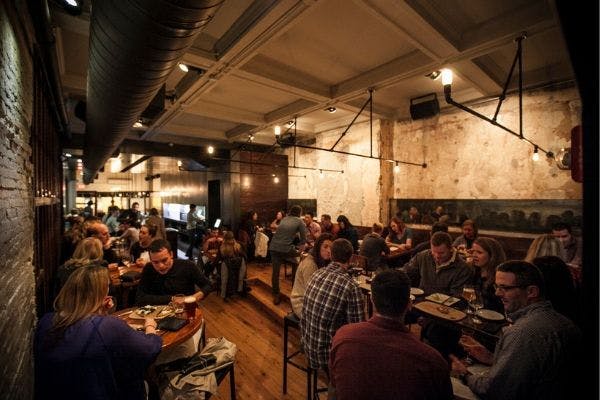 Learn about and enjoy a different beer, cheese, and cocktail every Sunday at incredibly low prices. School was never this delicious. Limit one each per guest at the Sunday School price, and please, no returns: if you try it, you buy it. (We think you'll like it!)
SUNDAY, OCTOBER 27, 2019
---
BEER Allagash Haunted House
Portland, ME · 6.66%
Creaking doors, crashing furniture, flickering lights... is the house haunted or has your roommate just been enjoying a few too many of this spooky Belgian Dark Ale from longtime Tria friends Allagash Brewing Company? Just in time for Halloween, this Sunday we have decided to give you a treat, that clocks in at a tricky 6.66%. Brewed with roasted barley and Black Prinz malts and hopped with Tettnang, Chinook, and Saaz, this beer has a rich chocolate brown color, a roasty, coffee aroma and flavor, and a nice astringent, mildly bitter finish.
$8.5 / 11 oz · $5 / 11 oz
---
CHEESE Calkins Creamery Vampire Slayer
Hawley, PA · Cow - P
It's hard not to love a cheddar called Vampire Slayer. In fact, it's hard to think of a cheese with a better name. Studded with garlic, hot peppers, and herbs, then wrapped in a cape of black wax, this Halloween-inspired cheese has become a regional favorite. It's handmade in the Poconos by Emily Montgomery, a corporate drop-out who returned to her family's dairy farm and became an award-winning cheesemaker in her second life. May this cheese inspire your own wicked transformation.
$6.5 · $3.5
---
COCKTAIL Continental Sour

Better known as the New York Sour, this Pre-Prohibition classic from the 19th century has made a full comeback in the mixology renaissance.Originally the drink was also known as a "Continental Sour" and a "Southern Whiskey Sour" during the 1880s, but the "New York Sour" name seemed to stick in the early 1900s.. With a base of local Dad's Hat Rye Whiskey, which makes the cocktail both historically accurate and adds a spicy underlying note that is rounded out with the classic "sour" mix of lemon and sugar. The kicker is a float of dry red wine from nearby Wayvine Vineyards that provides the "claret snap" and gives the drink a beautiful layered appearance.
$12 · $6.5