Sunday School | Taproom 1/26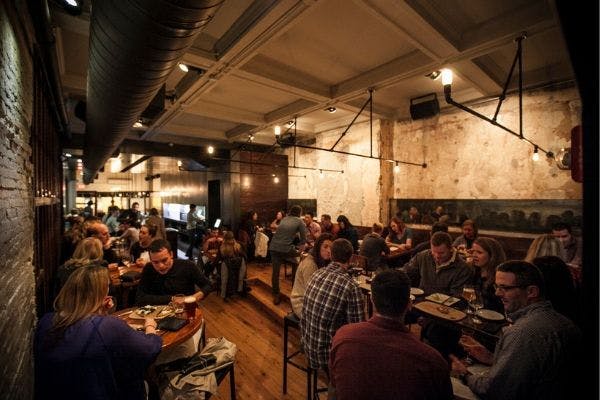 Learn about and enjoy a different beer, cheese, and cocktail every Sunday at incredibly low prices. School was never this delicious. Limit one each per guest at the Sunday School price, and please, no returns: if you try it, you buy it. (We think you'll like it!)
SUNDAY, January 26th, 2020
---
BEER Hermit Thrush Brattleberry
Brattleboro, VT · 5.2%
One of our motto's here at Tria is to provide an escape for our guests. So we figured we'd take that as literally as possible with a summer time themed Sunday School to counteract these chilly temperatures. Starting with a beer aged on summertime fruit. The label says "Brattleboro, VT," but Hermit Thrush's beers have a Philadelphia pedigree: brewers Christophe Gagne and Avery Schwenk met at Swarthmore College, and Christophe has brewed on the in-house system at dearly departed Nodding Head. Aging their Brattlebeer for nine months on raspberries leads to a huge tart berry nose, with plenty of fruit and barrel flavor. Imagine a dry framboise with a hint of apple notes, and a round, smooth oaky finish.
$9 / 11 oz · $5 / 11 oz
---
CHEESE Valley Milkhouse Witchgrass
Oley, PA · Cow - P
Fluffy in texture with a thin layer of vegetable ash along the rind, Witchgrass is one of the most striking cheeses made in the Philadelphia area (each round looks like a cross section of a birch tree). It's also mild in flavor and just plain delicious – a great gateway for anyone interested in exploring some next-level local cheese. Why is it called Witchgrass? Cheesemaker Stefanie Angstadt takes inspiration from a notebook that her grandfather used to record lists of local wildflowers and weeds he observed on his farm. Witchgrass is a summer annual that grows in bushy clusters along pastures and crop fields. If you like this little wonder, look for the Valley Milkhouse stand at Clark Park Farmers' Market, which operates year 'round..
$8 · $4
---
COCKTAIL Taproom Rum Runner

The Rum Runner was created in the 1950's at the Tiki Bar of Holiday Isle in Islamorada, Florida. Traditionally filled with fruits and rum, it can either be shaken or blended…but here at Taproom, we decided it should be tapped! Featuring local Boardroom Rum and Jamaican Smith & Cross Rum, we bring the tiki vibes to life with house pineapple syrup, citrus, pomegranate, strawberry, and a splash of Cappelletti for balance. We also utilized our Guinness gas blend line for that frothy Tiki texture! We can't get you physically to the beach you should be drinking this on, but we can at least get your mind there!
$12 · $6.5