Sunday School | Taproom 8/18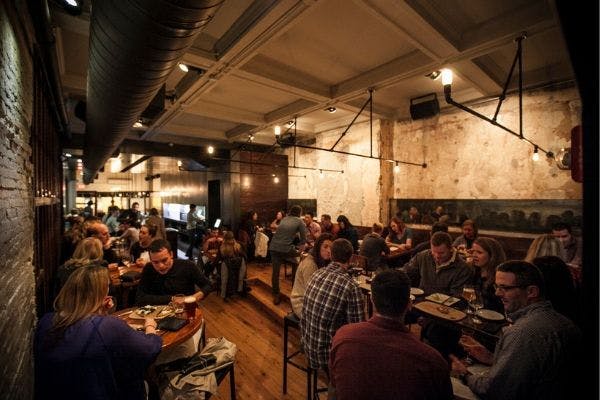 Learn about and enjoy a different beer, cheese, and cocktail every Sunday at incredibly low prices. School was never this delicious. Limit one each per guest at the Sunday School price, and please, no returns: if you try it, you buy it. (We think you'll like it!)
SUNDAY, AUGUST 18, 2019
---
BEER Ayinger Bavarian Pils
Aying, Germany · 5.3%
Here at Tria we consider Pilsner to be one of the most important styles. In a land of dark and sour beers, the Pilsner, first brewed by Josef Groll in Pilzn, Czech Republic in 1842, was a shining beacon of golden goodness. It was revolutionary not just for its kiln-dried malt that allowed for its revolutionary pale. clear color, but for its distinctive, aggressive hop profile. The hops that would go on to be used in these beers would be given the reverent classification as the Noble hops. Noted for their spicy, floral aromas and crisp bite, the Noble hops (Tettnang, Hallertau and Spalt from Germany, and Saaz from today's Czech Republic) continue to make German beer styles distinct to this day. Today's crisp, classic pilsner from a 130-year-old family brewery couldn't get our point across any better.
$7 / 16 oz · $4 / 16 oz
---
CHEESE Valley Milkhouse Marigold
Oley, PA · Cow - R
Marigold is the newest cheese from one of our favorite local cheesemakers, Stefanie Angstadt of Berks County. Washed in cider, these wheels are all summer cream with savory, nutty notes that call to mind the best farmhouse tommes of France. (A "tomme" is the generic name for a French village cheese.) Stefanie spent a semester in France during her college career at Brown University and loved visiting village markets to buy cheese. Later, this experience inspired her to leave a job in banking to become a rural cheesemaker. You can always recognize Valley Milkhouse cheeses because Stefanie names them after wildflowers that grow on her farm.
$6.5 · $3.5
---
COCKTAIL Midnight Train

The dog days of summer are officially here, however we can see that light that is autumn at the end of this hot and humid tunnel. What better way to get there than taking this week's cocktail the Midnight Train. Based off of the classic and refreshing Cobbler cocktail, named for its being served over "cobbles" of ice and coined "the air-conditioning of the 19th Century," our version features Maggie's Farm White Rum, Ford's Gin, and Giffard Crème de Peche for a lip smacking peachy finish. Balanced by a few other citrus forward liqueurs and the sharp but sweet mix of lemon, lime and pomegranate juice.
$12 · $6.5