Sunday School | Rittenhouse + Wash West 1/26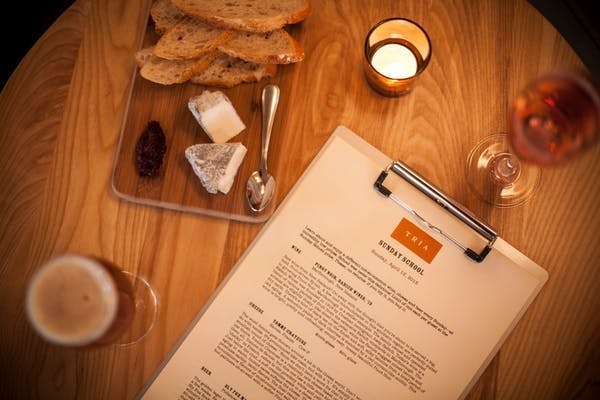 Learn about and enjoy a different not-so-common wine, cheese, and beer every Sunday at incredibly low prices. School was never this delicious. Limit one each per guest at the Sunday School price, and please, no returns: if you try it, you buy it (and we think you'll like it!)
SUNDAY, JANUARY 26, 2020
---
WINE Cava Rosado, Conde De Subirats, NV
Catalonia, Spain
Brut, dry, demi-sec: when it comes to sweetness, sparkling wine practically has its own language and often that language is one of contradictions. Ever tried a "dry" champagne and was shocked by the sweetness? How do you get away with calling something that sweet "dry?" Well it was dry, compared to what champagne used to be. Back in the 1800's, champagne was very sweet, practically a dessert wine. But the market demanded a drier style, and so "dry" champagne was invented. However, this was still pretty sweet and the market wanted something drier, so they came up "extra dry," which, surprise surprise, was still relatively sweet. When the market came calling yet again, the French had a problem. No one was really sure what to call this next even drier style; we guess "super duper dry" did not sound particularly classy (not even in French). It was the British who came to the rescue; upon tasting this new ultra dry style, a Brit exclaimed "this is brutally dry!" This was shortened down to just brut. It did not take long for all the other sparkling wines of the world to start using champagne's terminology. Today we are featuring one of these other sparkling wines, Spain's answer to champagne, Cava. This brut rosé example is made mostly of the indigenous trepat grape and sings with notes of strawberry leaves, fresh raspberries and Seville oranges. Conde de Subirats sustainably grows their grapes in Catalonia and ages their wine "sur latte" for twice the legal requirement. And as for the sweetness? You might find this wine brutally delicious.
$12 glass · $6 glass
---
CHEESE Valley Milkhouse Witchgrass
Oley, PA · Cow - P
Fluffy in texture with a thin layer of vegetable ash along the rind, Witchgrass is one of the most striking cheeses made in the Philadelphia area (each round looks like a cross section of a birch tree). It's also mild in flavor and just plain delicious – a great gateway for anyone interested in exploring some next-level local cheese. Why is it called Witchgrass? Cheesemaker Stefanie Angstadt takes inspiration from a notebook that her grandfather used to record lists of local wildflowers and weeds he observed on his farm. Witchgrass is a summer annual that grows in bushy clusters along pastures and crop fields. If you like this little wonder, look for the Valley Milkhouse stand at Clark Park Farmers' Market, which operates year 'round.
$8 · $4
---
BEER North Coast Old Rasputin Russian Imperial Stout
Fort Bragg, CA · 9.0%
The mysterious Grigory Efimovich Rasputin was a peasant who gained hoards of followers by claiming powers of healing and prediction, much to the chagrin of the Russian government. North Coast Brewing Company claims that their namesake Imperial Stout, Old Rasputin, also develops a cult following wherever it goes. We at Tria don't necessarily follow the words of real Rasputin, but we are here to second, third and fourth all great claims about this excellent beer, which was a pioneer in reviving this wonderful and wintry style back in the '90s. Historically, Imperial Stout was brewed in London for export to Catherine the Great's Russian court in the 18th century. The ultra-high alcohol level was a measure in part to prevent the beer from freezing during transport through the icy Baltic Sea. Old Rasputin is a modern day classic example of this perfect-for-winter style; dark and dense, loaded with roasted malt flavor and a heavy load of hops at the finish. Unlike its namesake, this beer isn't wild-eyed or even particularly loony. It's a hearty, well-balanced iteration of our favorite style of beer to enjoy in frigid temperatures. We predict this one will soothe all your winter woes and become even more delicious when paired with a firm Cheddar cheese.
$8 / 12 oz · $4 / 12 oz