Sunday School | Rittenhouse + Wash West 8/18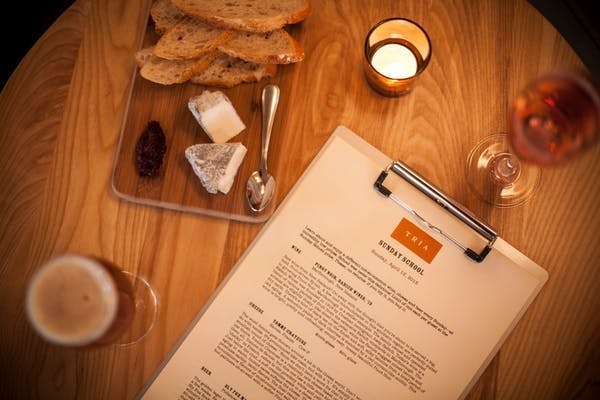 Learn about and enjoy a different not-so-common wine, cheese, and beer every Sunday at incredibly low prices. School was never this delicious. Limit one each per guest at the Sunday School price, and please, no returns: if you try it, you buy it (and we think you'll like it!)
SUNDAY, AUGUST 18, 2019
---
WINE Baga, Sidónio de Sousa, '15
Bairrada, Portugal
Portugal, a tiny country smaller than Kentucky, has over 55 wine regions and is the home to over 230 diverse grape varietals, such as the beautiful Baga grape (translating to "berry") in today's wine. Respecting the land and keeping tradition alive is important to Portuguese winemakers like Sidónio de Sousa, who has been recognized for having amongst the oldest of the Baga vines in the Bairrada wine region. In the western part of the Beiras, between the mountainous Dão region and the surf-washed Atlantic beaches, Bairrada has a mild, maritime climate with abundant rainfall. Sidónio de Sousa makes wine the old school way, using traditional farming methods with minimal intervention, both in the vineyard and cellar. The Baga grape is small and thick-skinned, which makes for high tannin levels in the juice, and the grapes ripen later than many other varietals. The resulting wine tastes like dark berries macerated with herbs and smoke balanced by a stony minerality. Enjoy it with a charcuterie plate and a pair of stoic cheeses. Three cheers for the beauty of the Baga grape of Bairrada!
$10½ glass · $5½ glass
---
CHEESE Sottocenere
Veneto, Italy · Cow - P
Sottocenere (so-toe-chen-NAY-ray) is a fudge-like truffle cheese dusted with a thin layer of toasted cinnamon, clove, nutmeg, and coriander. Its name literally means "under ash." The spices on the rind might sound like bold flavors, but they are a mere caress in the dark; what you really taste here is sweet milk and gorgeous black truffles. Sottocenere is made in Italy's Veneto, a lush agrarian region that encompasses Venice and Verona. It's also the seat of some very romantic cuisine: steamy hot polenta, fruity Asiago, salty prosciutto, and this butterball of a cheese stuffed with truffle-y bits. Other truffle cheeses exist, but this is the one that will leave you breathless.
$8 · $4
---
BEER Cuvée des Jacobins Rouge
Bellegem, Belgium · 5.5%
We love the unique sweet and sour character of Flemish Sour Ales (think Rodenbach or Duchesse de Bourgogne). They're perhaps the most wine-like of styles, and this just might be our favorite example. Unlike most renditions of the style, Cuvée des Jacobins Rouge is spontaneously fermented with airborne yeasts like ancient Lambic and the many new wild beers inspired by these "primitive" methods. All sorts of microorganisms make for rusticity and tartness that is the opposite of industrially perfect. This beer will make your mouth pucker and your mind wonder. It's remarkably balanced. It's quenching, yet beguilingly complex. It's a paradox in your glass.
$9½ / 11.2 oz · $5 / 11.2 oz