Sunday School | Rittenhouse + Wash West 12/8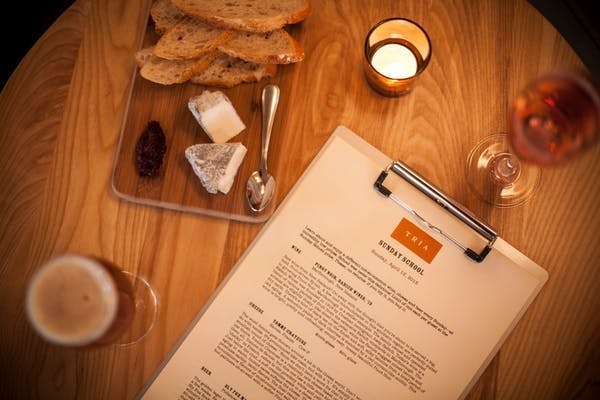 Learn about and enjoy a different not-so-common wine, cheese, and beer every Sunday at incredibly low prices. School was never this delicious. Limit one each per guest at the Sunday School price, and please, no returns: if you try it, you buy it (and we think you'll like it!)
SUNDAY, DECEMBER 8, 2019
---
WINE Sangiovese di Romagna Superiore, Tre Monti, '18
Emilia-Romagna, Italy
Sangiovese is the leading protagonist of the ongoing drama known as vino Italiano. From the Latin for sanguis Jovis, or "the blood of Jove," Sangiovese has awarded central Italy its best wines from Brunello to Chianti Classico. This Sunday, though, we focus on Sangiovese not from Tuscany, but from Italy's breadbasket, Emilia-Romagna. The region's capital, Bologna, is a vibrant city with an 11th-century university and arched porticos lining the streets and squares of its medieval core. Enter Azienda Agrícola Tre Monti, who traces its origins back to the early 1960s with the inspiration of Sergio Navacchia and of his wife Thea. Today the winemaking operations are watched over thoroughly by their son, the talented Vittorio Navacchia, a friend of Tria's, who practices the philosophy of minimal intervention. In fact, Tre Monti has been certified organic 2014. Sangiovese from this region tends to be brighter with soft cherry fruit and delicate spices. This unoaked versatile version from Tre Monti is perfect companion for just about anything on the menu at Tria, so go ahead and eat up. 'Tis the holiday season, after all.
$11 glass · $6 glass
---
CHEESE Lakins Gorges Rockweed
Waldoboro, ME · Cow - P
Yes, you're about to taste what may be the only cheese in the U.S. made with a thin ribbon of seaweed. Cheesemaker Allison Lakin writes, "My inspiration for developing this cheese was the seaweed covered rocks on the shore of the Medomak River where East Forty Farm is located. I source the seaweed for the cheese from Maine Coast Sea Vegetables." Released in 2019, Rockweed won a silver medal in the Big E Gold Medal Cheese Competition, and this unique cheese has been selected as one of the ten 2019 Yankee Editors' Choice Food Awards in Yankee Magazine. Creamy and briny, Rockweed just might be the ultimate cheese for an oyster lover – or anyone missing the Jersey Shore in December. We hope you enjoy this award-winning cheese from Maine!
$8½ · $4½
BEER Tröegs Mad Elf
Hershey, PA · 11%
It's the most maddening time of the year, and we don't mean the stresses of shopping or seeing your extended family. We're talking about Mad Elf time, the annual release of a most-favorite holiday brew. Yes, you've probably had it before, but it wouldn't really be the holiday season if you didn't have it again. Tröegs Brewing Company makes many wonderful year-round offerings, but this winter seasonal just might be their most revered brew. Mad Elf is a ruby-red Strong Ale made from German hops, Belgian yeast, chocolate malt, Belgian candi sugar, sweet and sour cherries and local PA honey. It's simultaneously sweet, tart, spicy and smooth with rich notes of cherry and chocolate. The 11% ABV packs a hearty punch, but in that lovely soul-warming way that is just right for the holiday season (and a lot more fun than watching It's a Wonderful Life over and over again). Get Mad to Get Glad!
$7 / 11 oz · $4 / 11 oz