Sunday School | Rittenhouse + Wash West 10/27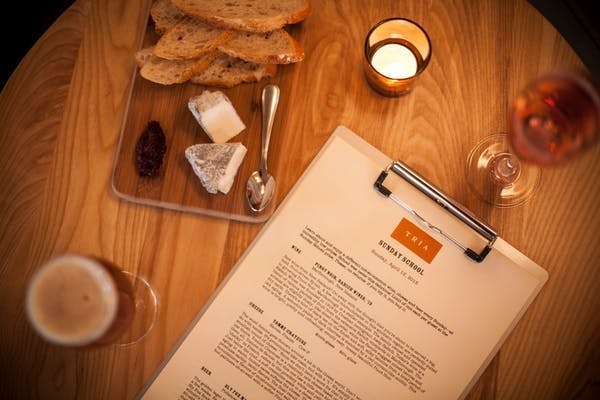 Learn about and enjoy a different not-so-common wine, cheese, and beer every Sunday at incredibly low prices. School was never this delicious. Limit one each per guest at the Sunday School price, and please, no returns: if you try it, you buy it (and we think you'll like it!)
SUNDAY, OCTOBER 27, 2019
---
WINE Merlot, Wayvine Winery & Vineyard '16
Nottingham, PA
Zachary and Jason Wilson are attractive laid-back brothers that look more like surfers than winemakers. This dreamy duo works hard to produce some of southeastern PA's finest wines and their enthusiasm for PA wine is infectious. More compelling than their charming personas are their products: thoughtfully made wines that reflect their terroir but offer a maturity not often found in such young vines. The Wilson Vineyard, planted in 2010, is home to several French Bordeaux varietals including today's magnificent Merlot. It's smooth, sexy and supple showcasing all that there is to love about this star grape. Enjoy a glass today, and in case you didn't get a chance to say hello to Zach and Jason during their visit to Tria, you could always visit their vineyard. A toast to the Wayvine pair for crafting wines that make us PA Proud!
$11½ glass · $6 glass
---
CHEESE Cabra Al Gofio
Fuerteventura, Canary Island · Goat - P
This summer, we got a little obsessed with island cheeses at Tria, which is how we came across this unusual aged goat cheese from the Canary Islands – a Spanish archipelago off the coast of northwestern Africa. The rugged landscape supports herds of indigenous goats, including the Majorero, which is milked to make this unusual goat cheese rolled in toasted cornmeal. ("Gofio" is the name of the local corn.) Subtle and sweet with just a hint of toastiness along the rind, this cheese conjures all things autumnal, especially the end of harvest season. Try Cabra al Gofio with a crisp white, a hard cider, or a seasonal brew.
$7½ · $4
BEER Rodenbach Grand Cru
Roselare, Belgium · 5.6%
The brewery's slogan is, "You love it or you hate it." That sure sounds like a dare. Today's Rodenbach Grand Cru and its little brother, Rodenbach Classic, are the quintessential expressions of the Flanders Red Ale style from West Flanders. Infamous for their distinct, sharp, fruity, sour tartness, Rodenbach beers rarely evoke indifference. Both the Classic and Grand Cru are blends of young and old beer, but the Grand Cru has a higher percentage of old beer (two years in oak casks), adding strength and complexity. The addition of lactic bacteria in the primary fermentation, as well the bacterial flora introduced to the beer during oak aging, give Rodenbach its tart, slightly sweet, complex and crisp personality. The King of Beer, the late Michael Jackson, declared Rodenbach "the most refreshing beer in the world." Whether you love or hate it, you're guaranteed to form an opinion. Pucker up!
$9½ / 11.2 oz · $5 / 11.2 oz