Sunday School | Rittenhouse + Wash West 6/16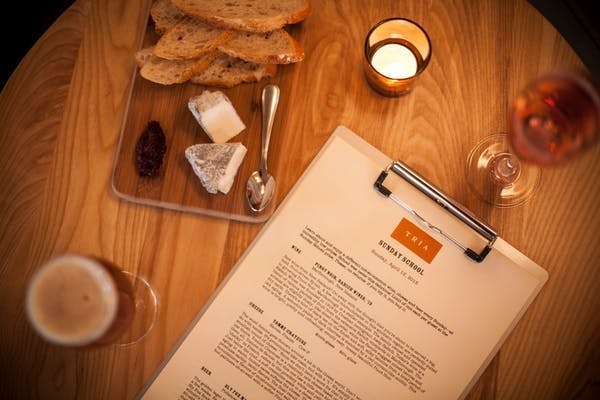 Learn about and enjoy a different not-so-common wine, cheese, and beer every Sunday at incredibly low prices. School was never this delicious. Limit one each per guest at the Sunday School price, and please, no returns: if you try it, you buy it (and we think you'll like it!)
SUNDAY, JUNE 16, 2019
---
WINE Exotic White Blend "Quíbia," Ànima Negra, '17
Mallorca, Spain
Tria is celebrating "island wines" for the month of June. Why? Well thanks to their unique terroir of volcanic soil, indigenous grapes and ocean breezes, islands are making some of the world's most exciting wines right now. Plus, if you can't sit on a beach this Sunday, at least you can enjoy your staycation with our island wine getaway. Enter Mallorca: this is the largest of the four Balearic Islands located off eastern Spain, in the Mediterranean. Mallorca is known for its beaches, scenic coastline and the Serra de Tramuntana Mountains. Ànima Negra was founded in 1994 when two self-taught winemaking friends—Pere Ignasi Obrador and Miquelàngel Cerdà—decided to make some wine for their own consumption from native grapes. The initial results were so encouraging that they decided to form a partnership and pursue their newfound passion for wine. Today's selection is called "Quíbia," which in the local dialect means a worry-free state of mind. It is a blend of three local grapes including Premsal and Giro Ros (both white) and Callet (a red grape!). The wine is fermented using only native yeasts and aged sans oak on the lees for four months. Quíbia has aromas of white peach, pear, sea brine and jasmine. On the palate the wine is weighty with silky olive oil texture and concentrated flavors of Anjou pear and capers. The wine is crisp and cool, perfect for warm-weather sipping. Happy island travels today at Tria. Don't forget the sunscreen.
$12 glass · $6½ glass
---
CHEESE Mahón Semi Curado
Minorca, Spain · Cow & Sheep - R
Minorca, once a pirate encampment in the faraway Balearic Islands of the Mediterranean, is the birthplace of this popular Spanish cheese, second only to Manchego. The aged version, Mahon Reserva, is characteristically nutty in taste (think almonds) and pairs like a beaut with Spanish reds and Madeira. It's a sundowner of a cheese, golden in color with a sunset-orange rind, thanks to a good rubdown with olive oil and paprika. Sit back, enjoy the taste of sea spray that comes from ocean mist settling on the grass of Minorca's pastures, and let yourself imagine a island life. Minorca is just 50 kilometers long and only has around 90,000 inhabitants (you could be one of them). It's a beloved destination for wildlife lovers as the island has been designated by UNESCO as a biosphere reserve. In addition to caves, lagoons, and thousands of different bird and plant species, there are more than 1,500 archaeological sites dating back to the arrival of the Romans. Needless to say, you will be going mostly for the cheese.
$7½ · $4
---
BEER Allagash Curieux
Portland, ME · 10.4%
No one knows who made the first barrel. Archaeologists have found coopers' tools and wooden seals dating back to 100 B.C. An even deeper speculative issue is the debate over when we decided that wine, beer and other spirits fit perfectly in these barrels. Around 90 A.D., Pliny the Elder observed the use of barrels to store and mature wine and other spirits by cultures far north of Rome. Fast-forward to today; experimental craft brewers all over the country are obsessed with wooden barrels. Whether toasted, charred, used or new, wooden barrels, especially ones made from oak, impart many desirable flavors and often structure and nuance. Allagash used Jim Beam bourbon barrels to age their acclaimed Tripel. After an eight-week stay in the cellar, Curieux (French for curious) emerged with flavors of coconut and vanilla, and a definite hint of bourbon. A great beer has thus been transformed into an entirely different great beer. Curious?
$9 / 11oz DRAFT · $5 / 11oz DRAFT